On May 4, 2023, Goldberg Kohn's Chair of Litigation, David Chizewer, interviewed former U.S. Secretary of Education Arne Duncan at the global conference of Meritas member law firms. Goldberg Kohn is the Chicago member of Meritas and hosted this year's annual conference in Chicago. Mr. Chizewer's interview with Mr. Duncan was the conference's keynote presentation.
After serving as a cabinet member under President Barack Obama, Mr. Duncan founded Chicago CRED and currently leads the anti-violence organization. Starting with 30 men in the fall of 2016, Chicago CRED, along with its many community partners, now serves approximately 500 young men hailing from the South and West sides of Chicago who are most at risk of shooting or being shot.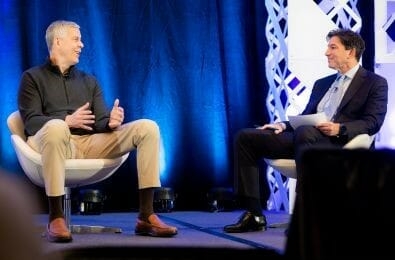 At the Meritas conference, Mr. Duncan talked about the challenges facing today's world and the complexities of solving them. He listed family issues, trauma, PTSD, economics and other factors as contributors to the high level of gun violence in the United States. Solving these problems, he told the attendees, requires collaboration and alignment on shared goals and vision.
"The country needs more leaders like Arne Duncan who approach problems with clear-eyed, apolitical logic and a strong dose of sincere human compassion," said Mr. Chizewer in response to the presentation.
About Meritas
Meritas is a premier global alliance of more than 180 market-leading, independent law firms located in more than 90 countries and 259 markets across the world. Meritas' global alliance of law firms was founded in 1990 to provide borderless legal services to companies looking to capture transnational opportunities or solve multijurisdictional issues. Meritas members know the local courts and customs and are experienced in cross-border and cross-cultural disputes and transactions.